HISTORY OF THE REG
The Reg is lucky to be built in the centre of Waterford's Viking Triangle. We are located directly beside Reginald's Tower, The Viking Longboat and The Viking Sword, located just behind us on Baileys New Street.
The Reg is steeped in history. The Reg is built around the 900 year old medieval city wall that runs though the spine of The Reg. There are 2 Sallyports (arches) which are located in The Reg Bar. These Sallyports are where the Vikings Sallied forth into St John's River and were also used by archers to defend the city. The City Wall and Sallyports are open to the public to view all year round.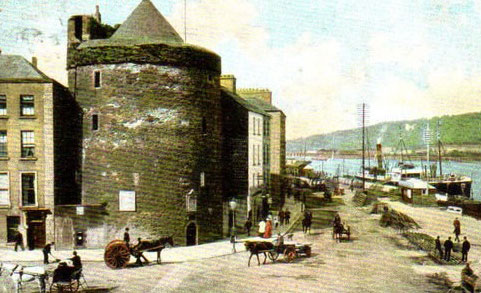 In the 80's and 90's, The Reginald Bar, which stood in the place of the current Reg, was the most popular destination in Waterford City for dining, drinks and entertainment. After some changes of ownership and a period of time, the building lay dormant for 5 years.
In 2012, Waterford's Viking Triangle, Waterford's Cultural and Heritage quarter was established. A tranquil place, characterised by narrow streets, atmospheric public spaces and an array of cultural & heritage attractions.
Following the establishment of Waterford's Viking Triangle, The Reginald Bar and surrounding buildings such as a townhouse which was built in 1870, were purchased with a vision to re-establish the original Iconic premises and venue of The Reginald Bar. This purchase was made in early 2012. Care was taken to retain the original features of the townhouses such as the staircase, sash windows and cast iron fireplace which can still be seen in The Reg today.
In November 2013, The Reg opened their doors to the public.
Fast forward to the present day, and The Reg has gone from strength to strength. The Reg is once again Waterford's casual dining, drinking and entertainment destination.
The Reg are continuously investing in Waterford's economy with a recent investment into SUAS at The Reg which saw €150,000 which included a full revamp of SUAS Restaurant and Night Bar along with a state-of-the-art roofing system on SUAS Terrace which allows a roof, lighting and heating all to come on at the touch of a button.